Heartbreak and hope are at the center of Alison Hammer's debut novel, YOU and ME and US (HarperCollins). Alison takes some time to share about her novel.
Alexis Gold knows how to put the "work" in working mom. It's the "mom" part that she's been struggling with lately. Since opening her own advertising agency three years ago, Alexis has all but given up on finding a good work/life balance. Instead, she's handed over the household reins to her supportive, loving partner, Tommy. While he's quick to say they divide and conquer, Alexis knows that Tommy does most of the heavy lifting—especially when it comes to their teenage daughter, CeCe.
Their world changes in an instant when Tommy receives a terminal cancer diagnosis, and Alexis realizes everything she's worked relentlessly for doesn't matter without him. So Alexis does what Tommy has done for her almost every day since they were twelve-year-old kids in Destin, Florida—she puts him first. And when the only thing Tommy wants is to spend one last summer together at "their" beach, she puts her career on hold to make it happen…even if it means putting her family within striking distance of Tommy's ex, an actress CeCe idolizes.
But Alexis and Tommy aren't the only ones whose lives have been turned inside out. In addition to dealing with the normal ups and downs that come with being a teenager, CeCe is also forced to confront her feelings about Tommy's illness—and what will happen when the one person who's always been there for her is gone. When the magic of first love brings a bright spot to her summer, CeCe is determined not to let her mother ruin that for her, too.
As CeCe's behavior becomes more rebellious, Alexis realizes the only thing harder for her than losing Tommy will be convincing CeCe to give her one more chance.
YOU and ME and Us is an emotional, life-affirming rollercoaster of a book that'll make you laugh and cry. I'm still trying to fully process it. Once I started reading the novel, I couldn't put it down. It's really amazing that this is Alison's debut novel.
Alison took some time to answer our questions!
1. It took you many years to write YOU and ME and US, what kept you motivated?
I actually wrote the first draft of YOU AND ME AND US in two months, thanks to National Novel Writing Month—an international writing program where people around the world are challenged to write 50,000 words in the month of November.
But the first manuscript that I wrote (one that's currently in a drawer!) took me 15 years to finish writing. Part of the reason that it took so long is that I lost motivation more than once. That's why I'm so grateful to NaNoWriMo. Having a deadline and competition, even against myself, helped me power through the first draft. It got me in the habit of writing every day, and that's made a big difference.
2. There are so many books being published daily. Why/how did yours stick out and get buzz?
I hope it's getting buzz! It's funny, I've heard from a few people that they've seen my book all over the place which makes me so happy to hear. I feel kind of like I'm in the eye of the hurricane, so I don't have a good view of what's happening around me.
But you're right, there are SO many good books coming out every day, and it's difficult to stand out!  I think a good cover definitely helps. I love how mine turned out—the physical distance between the characters gives a sense that something's not right, and I hope it draws people in.
Another thing that helps books stand out is reader support. When people post and share about books they love, it's the best thing ever. My favorite posts about the book are when readers review and share their pictures and thoughts with the friends. Word of mouth is a powerful thing, especially with social media!
3. How did you come up with the premise for your novel?   
The story of YOU AND ME AND US goes back to the first book I ever wrote. That currently-in-a-drawer manuscript also featured Tommy and Alexis, just 15 years earlier. At the end of that book, I knew a secret that Alexis didn't even know. She was pregnant. And that's what sparked the idea for YOU AND ME AND US.
In that first book, there are flashbacks to Alexis when she was a young teenager, and I thought it would be interesting to show her with a daughter the same age she had been in the flashbacks. But that was all I had, and I knew it wasn't much of a story. One day, I had the realization that Tommy would be sick, and the story honestly unfolded before me.
4. Do you write with music playing? What kind? Eat any special treats?
I do listen to music when I'm writing! And I have a very specific playlist that I listen to in order—it can't be on shuffle. It's my "Saved at Starbucks" playlist, and it's exactly what it sounds like, songs that I have saved to Spotify through the Starbucks app.
My favorite place to write is at a coffee shop, usually Starbucks. It's got the perfect balance of white noise for me. If a place is too loud, I get distracted. If it's too quiet, I look for distractions. And the playlist of songs I saved at Starbucks has become like that white noise for me when I'm writing at home or at my office. I've been doing it for so long that it's become a habit, so much so that when I hear the first notes of that first song, it's like a switch goes on and I'm officially in writing mode!
5. Who would you cast for the movie of your novel?
I'm terrible at this question! A friend who read the book had a great idea for Tommy—Chris Sullivan who plays Toby on This is Us.  I still haven't found the right Alexis or CeCe yet. But I get this question all the time, so if readers have any ideas for me, I'd love to hear them!
6. What's next?
My next book, Little Pieces of Me, will be coming out next Spring. It's the story of a woman who finds out through a DNA website that the dad she adored was not her biological father. It's a dual-timeline story that takes place in present day and back in 1975. The heart of the story is really about identity—how we define ourselves, and how that changes (or not) throughout our life experiences.

Purchase Links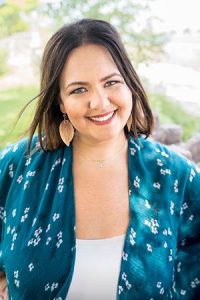 About Alison Hammer
Founder of the Every Damn Day Writers, Alison Hammer has been spinning words to tell stories since she learned how to talk. A graduate of the University of Florida and the Creative Circus in Atlanta, she lived in nine cities before settling down in Chicago, where she works as a VP creative director at an advertising agency. You & Me & Us is her first novel.
Find out more about Alison at her website, and connect with her on Instagram, Twitter, and Facebook.
#WilliamMorrow #HarperCollins