GIVEAWAY CLOSED

It was to be the perfect wedding—until the bride disappeared.
In Marybeth Mayhew Whalen's new novel, ONLY EVER HER (LakeUnionPublishing), Annie Taft's wedding is four days away, and it will be one of the grandest anyone can remember in her small South Carolina town. Preparations are in order. Friends and family are gathering in anticipation. Everything is going according to plan. Except that Annie herself has vanished. Did she have second thoughts?
Or has something much worse happened to the bride-to-be?
As the days pass, the list of suspects in her disappearance grows. Could it be the recently released man a young Annie misidentified as her mother's killer? Could it be someone even closer to her?
While her loved ones frantically try to track her down, they're forced to grapple with their own secrets—secrets with the power to reframe entire relationships, leaving each to wonder how well they really knew Annie and how well they know themselves.
I liked the premise of ONLY EVER HER, but I felt like the book couldn't decide what it was. It can be placed in several categories, but I felt it didn't have a focus. I love MMW's novels. I guess I was kind of let down by this one.
Purchase Links
About Marybeth Mayhew Whalen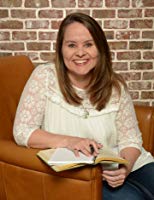 Marybeth Mayhew Whalen is the author of When We Were Worthy, The Things We Wish Were True, and five previous novels. She speaks to women's groups around the United States and is the cofounder of the popular women's fiction site She Reads (www.shereads.org). Marybeth and her husband, Curt, have been married for twenty-seven years and are the parents of six children. Marybeth divides her time between the suburbs of Charlotte, North Carolina, and the coastline of Sunset Beach, North Carolina. You can find her at www.marybethwhalen.com.
Connect with Marybeth
Thanks to TLC Book Tours, we have one copy to giveaway. Just tell us about being a bride or attending a wedding. We'll announce a winner soon. Good luck.
GIVEAWAY: USA only, please!