GIVEAWAY CLOSED

In MIDNIGHT at the TUSCANY HOTEL (ThomasMercer), a once-beloved hotel and the fountain can restore lost memories. But is it a miracle, or are there strings attached? 
The Tuscany Hotel was once a haven for young artists. A place full of inspiration and a work of art in and of itself, the hotel was built by Robert Gandy for his wife, Magdalena: a woman of beauty beyond description who was orphaned as an infant in Florence and grew up without the ability to remember. A tragedy caused the hotel to close its doors, however, and it has been years since the fountain in the courtyard ran with water and inspiration.
Vitto Gandy, Robert's son, returns from the horrors of World War II to a wife who fears him, a son who is too young to remember him, and a father whose memory of him is fading. As Vitto faces the memories that torture his heart and mind, his father runs off in the night to seek solace in the last place he was happy: the Tuscany Hotel. Instead of finding ruins, he discovers that the water in the fountain has begun to run again. And as he drinks it, his memory returns.
Filled with Alzheimer's patients hoping for restored memories rather than artists longing for inspiration, the hotel is once again a source of life and art. But nothing is truly as good as it seems, and the mysterious gift of the hotel comes with a price that each must determine they're willing to pay. Bursting with beauty, art, and inspiration, Midnight at the Tuscany Hotel is a story of parent and child, husband and wife, and the joy and pain of what it means to be alive.
I couldn't help but be reminded of the films, THE BEST EXOTIC MARIGOLD HOTEL and Wes Craven's, THE GRAND BUDAPEST HOTEL while reading MIDNIGHT AT THE TUSCANY HOTEL. That's not to say the stories are terribly similar, but I felt some sort of common surrealism, while reading. I suggest a couple of mimosas to enjoy while reading this one.

Purchase Links
About James Markert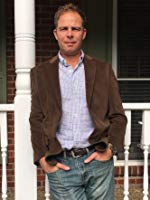 James Markert lives with his wife and two children in Louisville, Kentucky. He has a history degree from the University of Louisville and won an IPPY Award for The Requiem Rose, which was later published as A White Wind Blew, a story of redemption in a 1929 tuberculosis sanatorium, where a faith-tested doctor uses music therapy to heal the patients. The Angels' Share is his second novel, and he is currently working on his next historical, All Things Bright and Strange. James is also a USPTA tennis pro, and has coached dozens of kids who've gone on to play college tennis in top conferences like the BIG 10, the Big East, and the ACC.
Connect with James
Thanks to TLC Book Tours, we have one copy to giveaway. Just tell us if you've ever been to Tuscany and what you remember about your trip. We'll announce a winner soon. Good luck.
GIVEAWAY: USA only please.