Giveaway Closed
Jolina Petersheim's new novel, HOW THE LIGHT GETS IN is a story of grief and healing. The novel also explores marriage and motherhood.
When Ruth Neufeld's husband and father-in-law are killed working for a relief organization overseas, she travels to Wisconsin with her young daughters and mother-in-law Mabel to bury her husband. She hopes the Mennonite community will be a quiet place to grieve and piece together next steps.
Ruth and her family are welcomed by Elam, her husband's cousin, who invites them to stay at his cranberry farm through the harvest. Sifting through fields of berries and memories of a marriage that was broken long before her husband died, Ruth finds solace in the beauty of the land and healing through hard work and budding friendship. She also encounters the possibility of new love with Elam, whose gentle encouragement awakens hopes and dreams she thought she'd lost forever.
But an unexpected twist threatens to unseat the happy ending Ruth is about to write for herself. On the precipice of a fresh start and a new marriage, Ruth must make an impossible decision: which path to choose if her husband isn't dead after all.
Jolina graciously answered some of our questions about her writing.
1. Your writing has been called "fresh and inspirational." How does your Amish/Mennonite background influence your writing and storytelling?
I never want to come to a story with the mind-set of "Okay, I need to put someone in a bonnet." But I find myself naturally drawn to community because of my Mennonite heritage (my husband has both Amish and Mennonite heritage) and because I lived on a Christian campsite from the age of six until I was fourteen. That heritage and experience makes me intrigued by what makes community work and what tears it apart. In my new novel, How the Light Gets In, that community is narrower than in my previous books. It revolves around Ruth and Chandler's marriage and the familial community they've created with their two young girls. What keeps a marriage together and what tears it apart? If we can learn to love our spouse well—who knows us so intimately, warts and all—we can then love the world.
2. Do you approach writing your books with a particular message – religious or otherwise?
I often don't come with a message but rather with a question I've been pondering in my own heart. I enjoy putting my characters through the wringer, so to speak, to see how they will react, and to then help me see how I would react if placed in a similar situation. Sometimes I even draw from personal experience. I wrote How the Light Gets In after my husband and I had moved back to Tennessee from Wisconsin. He took me home because I missed my family, but he sacrificed his homesteading dreams in the process. For six long months, we had to navigate that transition, and I wrote the first draft during that time to help me understand that my husband could never fill the deepest needs of my heart, and I could never fill his. We each had to find our own healing and peace individually in order to have a whole and lasting union.
3. Are your books for both religious-minded and secular readers?
I ask questions we are all striving to answer. We all want to know how to have strong families, lasting marriages, communities that support and love each other with unconditional acceptance. My goal is to read widely enough that I can understand many different points of view. I believe that books are the best empathy-teaching tools. Author George R. R. Martin said it best: "A reader lives a thousand lives before he dies. The man who never reads lives only one."
4. Your novel addresses timeless truths – marriage, motherhood, grief, healing. Where do your ideas come from?
As I mentioned earlier, my ideas usually come from a question I would like answered, or would like to try to answer, but they also come from personal experience and stories I've heard. The Outcast was based on an affair that took place within an Old Order Mennonite Community and was covered up with a hasty marriage to another man until the child came down with a disease that afflicted his biological father (a modern retelling of The Scarlet Letter!). The Midwife came from being a young mother and wondering how far I would go to protect my unborn baby's life, even if she was not genetically mine. The Alliance and The Divide, a two-book series, came from my husband's health crisis and how I had to wrestle with whether my beliefs would hold up under severe testing. How the Light Gets In, a contemporary spin on the biblical book of Ruth, delves into the different facets of marriage that either bind two people together or tear them apart.
5. What is next? Your novels are perfect for Lifetime or some other wholesome outlet. Any news to share?
I'm currently on the second draft of a high-concept novel that is taking a bit more time to craft due to the need for historical accuracy. I am also working on another project, which delves into those questions I have asked, only this time, I am trying to answer them in nonfiction form.

Purchase Links
.
About Jolina Petersheim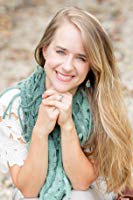 Jolina Petersheim and her husband share the same unique Amish and Mennonite heritage that originated in Lancaster County, Pennsylvania, but they now live in the mountains of Tennessee with their three young daughters.
Thanks to TLC Book Tours, we have one copy of HOW THE LIGHT GETS IN to giveaway. Just tell us how religion affects your life. We'll announce a winner soon. Good luck.
GIVEAWAY: USA only please.