Alison Gaylin's new novel, IF I DIE TONIGHT (WilliamMorrow) is an absorbing addictive story of psychological suspense. Gaylin, known for her previous books, WHAT REMAINS of ME and the award-winning Breen Spector series continues on with a thriller that's being called a mix of BIG LITTLE LIES and STRANGER THINGS.
Late one night, a former '80s pop music star stumbles into the quiet Hudson Valley town of Havenkill. Aimee En claims a teenage boy stole her car then ran over another young guy who tried to help. At that point, lives are changed forever.
The crime blows up social media, because the victim, Liam Miller is a football star. Liam's life hangs in the balance, the events of that fateful night begin to come into focus. But is everything as it seems? The suspect Wade Reed is portrayed as a deranged, outcast, would-be killer. But is Wade really guilty? And why won't he talk to authorities?
IF I DIE TONIGHT is told from various alternating viewpoints. It's the story of dark secrets and family ties, and to what lengths people will go to protect themselves.
Purchase Links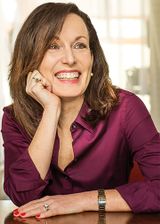 About Alison Gaylin
Alison Gaylin is a graduate of Northwestern University and of Columbia University's Graduate School of Journalism, she lives with her husband and daughter in Woodstock, New York.
Find out more about Alison at her website, friend her on Facebook, or follow her on Twitter.
Thanks to William Morrow we have one copy of IF I DIE TONIGHT to giveaway. Just tell us what's the last hyped-up crime you remember being in the media? We'll choose a winner soon. Good luck.